3 Important Questions to Ask Your Roofing Expert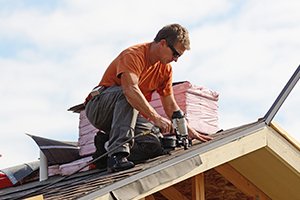 When it's time to begin planning for a new roof installation or replacement for your home, it's a good idea to sit down with a local roofing expert to ask a few questions. A new roof is a significant investment in your home's safety and value, so it makes sense to get all the information you need upfront to make the best decision for your home and budget.
To make the information-gathering process easier for you, we've compiled three crucial questions you should ask before you begin:
#1: What Are the Roofer's Qualifications?
Before you hire a roofing company for the job, be sure to ask about qualifications, including whether the company is licensed, bonded, and insured. You need to trust that you have a roofer who has the expertise and background to give you professional, long-lasting results for your roofing project.
#2: How Long Has the Roofing Company Been in Business?
Knowing a roofing company has years of success in the industry will bring you peace of mind. A new roofer may not have the experience necessary to provide the expertise you need for your roof replacement or installation. While the cost may be lower for an inexperienced roofer, choosing a reputable roofer with a track record of excellence and satisfied customers ensures you get top-quality roofing materials and services.
#3: What Warranties Does the Roofer Provide?
Warranties on roofing materials and workmanship vary from roofing company to roofing company. For this reason, it's important to find out from any roofer you are considering what kind of warranties they offer. Ask if the roofer is a CertainTeed Select Shingle Master Contractor, which means the company will provide customers with even more roofing warranties and extended warranty options than most companies offer.
What Questions Do You Have for Our Local Roofing Experts?
Whether you want to know more about our background and qualifications or are interested in getting more information about our warranties, connect with Premiere Roofing online now. We bring decades of experience and proven expertise to your commercial or residential roofing services.