4 Major Benefits to Commercial Roof Coatings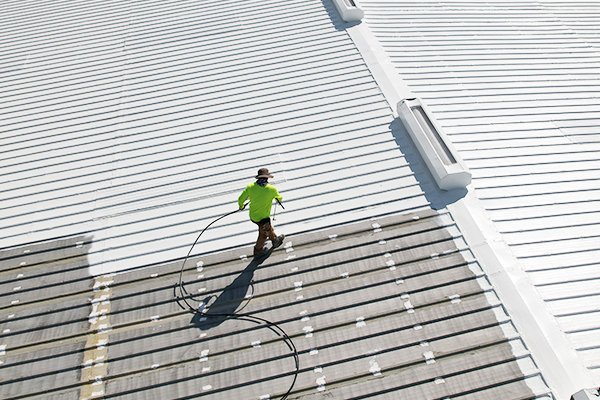 Roof coatings aren't something you think about very often, but if you have a commercial building, they're worth some consideration. Neglecting the roof
can lead to costs that probably don't fit your budget. So instead, look at the four major benefits of commercial roof coatings.
#1: Reduce Costs
Metal roof coatings are significantly less costly than replacing that roof. However, wear and tear happen, and even durable metal roofs are vulnerable to extreme weather and exposure to the elements over time. Roof coatings add the protection you need to avoid the expense of unexpected repair or replacement.
#2: Increase Energy Efficiency
Adding roof coatings is like adding insulation – it boosts the energy efficiency of your building. Commercial roof coatings help keep the cool air in during the hot summer months and the warm air in during the cool winter season, reducing your energy use and cutting down on your utility bills.
#3: Fewer Leaks
Roof sealants like commercial metal roof coatings fill every crack and space on your roof, reducing the chance for leaks. You won't have to worry about water damage inside your building with a high-quality coating protecting it.
#4: Longer Life for Your Roof
Extending the life expectancy of your commercial metal roof means you can wait longer to replace it. Because roof coatings protect the integrity of the roofing material and cut down on damage and wear and tear, your roof will be stronger and last longer.
There are so many benefits to metal roof coatings, there's no good reason not to find out more. Contact the experts at Premiere Roofing today for a free estimate for your commercial building.