Discover 6 F-Wave Shingle Benefits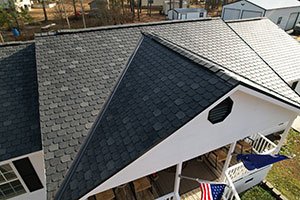 Want to learn more about F-Wave shingle benefits? Having a "roof over your head" is essential to every home's safety and stability. It's crucial to have a roof that can withstand environmental extremes while enhancing your curb appeal and home value. The best shingles will serve as a waterproof, windproof barrier to keep your home safe from many different kinds of environmental damage.
Run-of-the-mill shingles will not necessarily stand the test of time. After a while, generic asphalt shingles begin to fail. Luckily, a new type of roofing shingle has emerged: F-Wave shingles offer a higher level of impact resistance, and they come with a guarantee to protect the roof over your head.
What Are F-Wave Shingles?
F-Wave shingles are not your average roofing shingles. In fact, they are two times stronger and last two times longer than traditional shingles. These affordable synthetic shingles look sharp and add the perfect finishing touch to the aesthetics of your home, but the benefits don't end there. Instead of typical asphalt shingles, F-Waves are made of synthetic rubber and steel. This combination of materials is extremely durable while providing ease of installation and low-maintenance functionality.
Here are the top benefits of F-Wave shingles:
Featuring a Class 4 hail rating, the shingles come with a 5-year hail warranty to ensure their durability.
F and H Wind Resistance, as well as a 130-mph wind warranty, means F-Wave shingles will hold up in even the most extreme conditions.
Class A fire-rated F-Wave shingles are fire-resistant to give homeowners peace of mind.
Synthetic rubber and steel are resistant to UV and weathering.
Rather than being in three separate pieces like traditional shingles, F-Wave shingles boast a tough, single-piece construction.
Although highly durable, these shingles are also lightweight and easy to install.
Contact Premiere Roofing to Upgrade to F-Wave Shingles
Is it time to upgrade your residential roofing shingles? The team at Premiere Roofing can help you weigh the benefits of F-Wave shingles. We offer expertise and trusted roofing installation services to ensure you maximize your results and budget. Contact Premiere Roofing today to get an estimate for F-Wave shingles or other top-quality shingles products for your Columbia, SC area home.